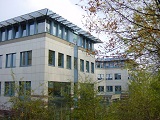 Essen, Ruhrallee 175.
The PKM group of companies, headquartered in Leverkusen, will move into another new branch with around 410 m² of office space at Ruhrallee 175 in Essen from October 1, 2021.
Brockhoff OFFICE acted in an advisory capacity in arranging the lease for the representative office building in the Ruhrallee II office park, which was modernized in 2020.
Brockhoff OFFICE was already active for the company in the past and found the right property for PKM after an extensive market analysis.
The responsible branch manager Mr. Harun Usluoglu is looking forward to the start in the new premises:
"We would like to take this opportunity to thank the Brockhoff OFFICE team for the very pleasant cooperation, which was aimed specifically at our search."
The office property impressed above all with its attractive and modern office equipment.
The location is connected to both the A52 and B 227 autobahns and is perfectly connected to local transport.
A bus connection is in the immediate vicinity.