Real estate agent at Brockhoff
Top perspectives
X
Your entry to advancement:
Real estate agent at Brockhoff.
As you probably know, the profession of real estate agent is not a protected profession, and there is also no regular training with which you can become a state-approved real estate agent after 2.5 years, for example. That's why we have invested a lot of time, know-how and creativity in the development of our own structured training, with which we make everyone who is interested in this great profession a real estate professional. Specifically, as one of the largest real estate companies in Germany, we offer you the best training you can find in the real estate industry. Because on the one hand, we want you to develop quickly. On the other hand, we know that our success is primarily due to the exceptional qualifications of our employees. Our customers are dealing with contacts who are not only empathetic and communicative, but above all have exceptional sales, market, regional and legal knowledge. And maybe our customers will be talking to you soon.
Share of regular customers
successful completions per year
million euros in sales in 2021
Years of market experience
Your path to becoming a real estate agent at Brockhoff
Performance and personality?
More important than certificates and degrees.
The profession of real estate agent is one of the most varied, secure and best paid professions. And in no other industry do you have so much influence on structural change and thus on the quality of life of the people who work and/or live in these properties. Many reasons that make the real estate agent a very responsible profession. Here it depends on the fact that man or woman understands his or her craft and has learned from scratch. With us you can do that. Whether you are a man, a woman, a junior, a professional or a career changer - with us, everyone makes his or her way. Because we don't just pay lip service to equal opportunities. What counts here is your performance and your personality - who you are, where you come from and what you have done before is secondary. Would you like to join us in rethinking the real estate industry and the brokerage profession? Then we look forward to receiving your application.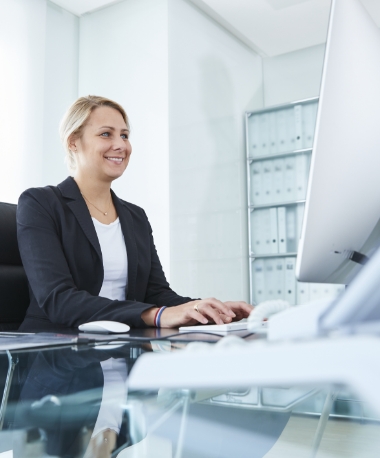 "For us, career is not a question of gender, but a question of personality. Because what counts here is you as a person with all your skills, your goals and your desire to make a difference. And fortunately, your rough edges also count. In other words, if you not only show what you can do, but also who you are, then you've come to the right place."
Julia Winteroth
Managing Director
Tasks of a real estate agent
The best job description:
no two days are the same.
This much is certain: Variety is part of our job. Because the properties we deal with every day are as unique as our customers. But to give you a first impression of the tasks that await you at our company, here's an initial overview:


Customer service and support


Valuations


Development of sales concepts


Preparation of exposés


Marketing


Carrying out of viewing appointments


Sales negotiations


Preparation of sales contracts


Mediation (e.g. in the case of a community of heirs)


and much more


Joint
successes are the true successes for us. That's why we work together here, not side by side.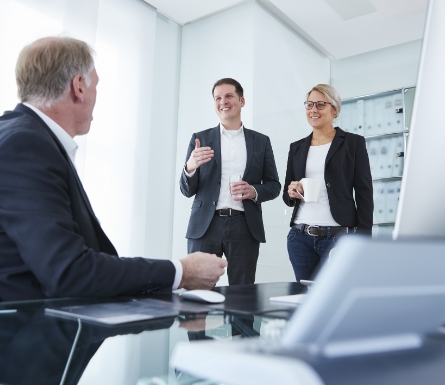 Regular training
We encourage, but we do not overburden.
Today, the world simply spins too fast to stand still. Customer requirements and needs change every second. Adaptation is becoming a key entrepreneurial competence - for us, too, of course. Topics such as real estate law, transactions, real estate succession, data protection, construction law, financing, sales or communication training are therefore kept up to date in regular advanced training courses at our company. Because only those who are one step ahead of their customers can also advise them. And only those who are always learning something new can get ahead. What is important to us in this context is that we have a balanced relationship between training and everyday work. We do not offer training after a ten-hour day. After all, training should encourage and not overtax.
Employer Benefits